Version 0.3 has been released
---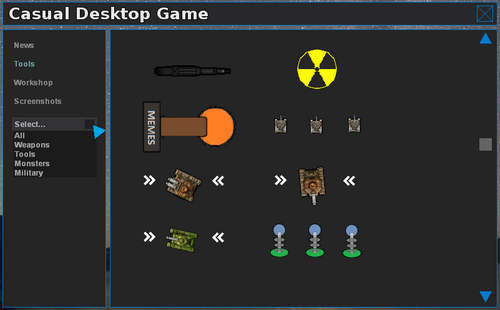 Welcome to version 0.3 of Casual Desktop Game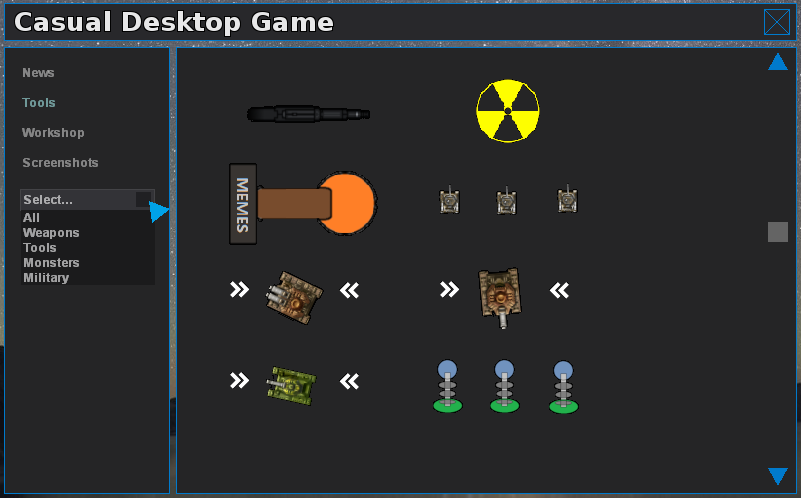 Today a new version has been released. It brings further usability and also there have been three new tools added: Some tanks which do fight other entities. There is a light, heavy and a dual gun, all three with different attributes (such as strength and speed) and "teams". Hopefully they will be an addition to pass time casually.
If you are a developer then you can be happy about two new API functions: 'Ent_IsValid' and 'Ent_GetId' in order to provide more stability to scripts.
Changelog:
Category "All" in order to access all tools
Added tool API functions 'Ent_IsValid' and 'Ent_GetId'
Added new tools 'tc_light', 'tc_heavy' and 'tc_dualgun'
Fixed menu tool section scrolling category indexing bug
If you are new to Casual Desktop Game: This "game" is a tool to pass time casually as a Desktop Destroyer remake where you can create your own tools and also get new tools from the Workshop. Have some moments waiting inside a game lobby? Waiting for a friend to join TeamSpeak? Just use this "game" in order to pass time casually. :-)
Have fun using the program.
Constructive critizism is appreciated.
Files
Casual_Desktop_Game_v0.3.zip
21 MB
Apr 17, 2018